Need Help? 1 866-902-0977
FREE SHIPPING ON ORDERS OVER $99.00
#

TRUE

DETOX
BioActive Carbon Minerals
BioActive Carbon essential minerals are as vital as many of the vitamins we are familiar with. This blend of 71 plant-derived minerals includes all the essential minerals our bodies need to function optimally. That includes the big six that are critical, which are calcium, potassium, iron, magnesium, iodine, and zinc. This blend also includes other daily minerals that you might not know as much about but are still important for daily function. That includes phosphorous, sodium, copper, manganese, selenium, molybdenum, and chromium.
Feel better using these minerals.

A little goes a long way!
Catherine W
BioActive Carbon Minerals
BioActive Carbon Minerals is designed to support the detox process while increasing energy.
Product Overview
BioActive Carbon Minerals is packed with 71 naturally occuring plant derived trace minerals to help support your body as you detox.
BioActive Carbon Minerals is highly refined and naturally chelated (i.e. ultra tiny size and ultra-low molecular weight) by nature itself, it consists of 100% organically complexed Nano-sized negatively charged ionic molecules which can easily penetrate human tissues and cells. For this reason, it is highly bio-active on the cellular level providing innumerable bio-chemical and metabolic detoxification functions. In addition to containing over 70 naturally occurring plant derived trace element minerals, it contains amino acids in an unaltered ionic solution. Thus, it is unquestionably the most rare and valuable of all Humic substances known to man. The short-term health benefits as well as the long-term clinical results (as seen with numerous medical applications of Fulvic Acid) are scientifically phenomenal and even medically outstanding.
Fulvic acid also enhances and increases the absorption and taste of other compounds such as herbs, vitamins, tinctures, minerals and foods with which it is combined. BioActive Carbon Minerals is effective as a drinking water and beverage additive as well.
Ingredients
The list of ingredients below is here to help you understand the ayurvedic properties of each, not to establish a claim on the ingredients as a whole.
Our products use long- and short-chain BioActive Carbon molecules, which have the ability to support life. These BioActive Carbon molecules are extracts of humic and fulvic acids, and are designed to work systematically in the body. These molecules bind with toxins in the body and, in addition to chelating them, leverage their ability to support life by repairing as they chelate.
Our BioActive Carbon molecules undergo a three-step proprietary process in which other molecules are attached to enhance their overall efficacy and ability to support the body as it removes biotoxins. These processes ensure that the molecules and their beneficial elements get where they need to go in the body without dissipation or loss of efficacy on the journey.
In short, BioActive Carbon is included because it binds, restores, directs and protects.
The Difference is in the Detox
BioActive Carbon Minerals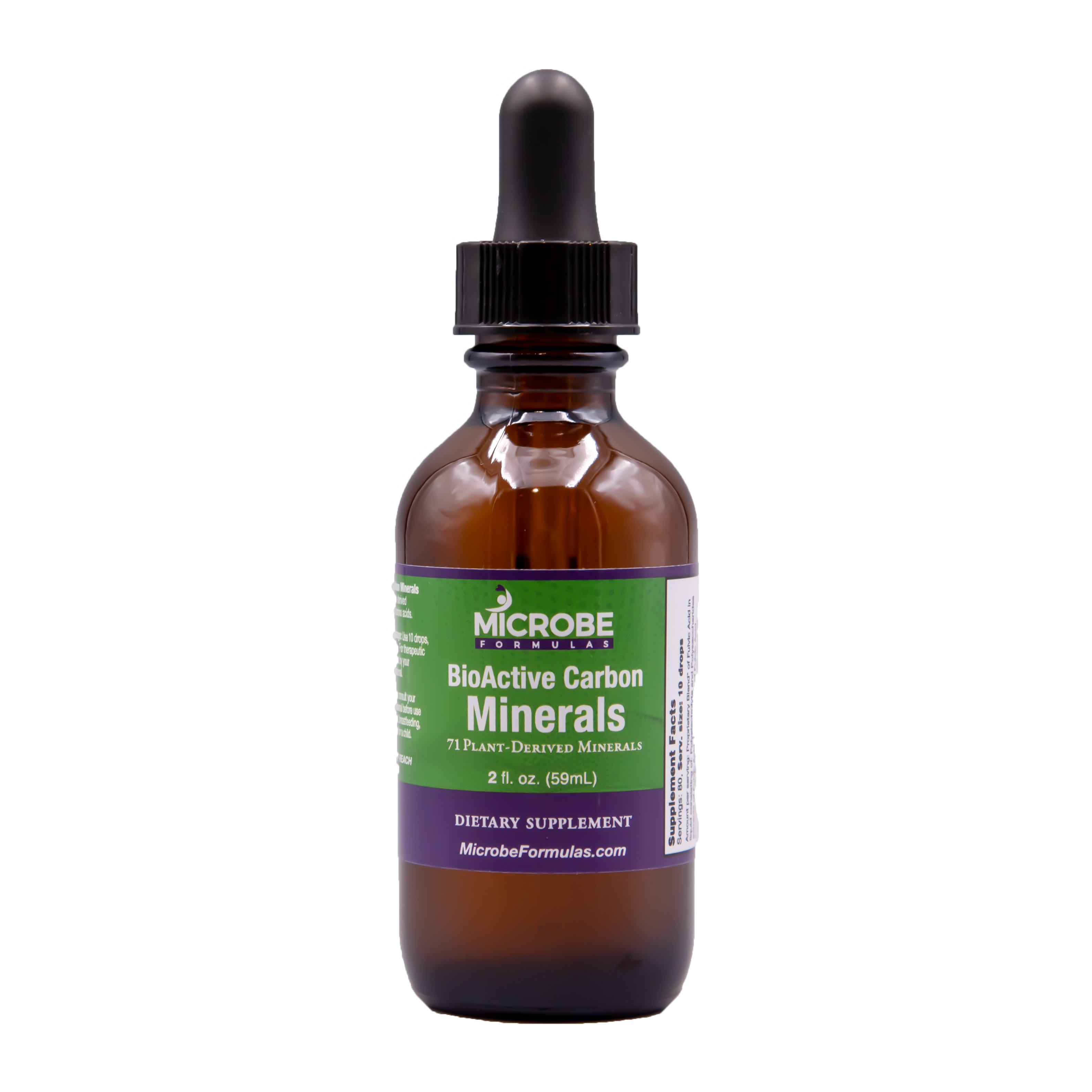 Frequently Asked Questions
Take a moment to review some of questions normally asked about BioActive Carbon Minerals.
Free Shipping
On Orders Over $99.00
60 Day Risk-Free
Money Back Guarantee
Live Support
Call or Chat
At Microbe Formulas, we live by this simple standard: Creating supplements that work is what we do. Restoring hope and health is who we are.