If you ever find yourself feeling tired, under the weather, or just not yourself… there's a good chance that your body is fighting parasites you didn't even know you had.
The Exclusive Full Moon Kit
Mimosa Pudica Seed: Regular: $45.00

Game-changing Health: Our flagship immune and digestive support product

Used For Centuries: Specially designed to scrape and scrub toxins, parasites, heavy metals, biofilm, and other unwanted elements from your body

Safe To Use: No harmful side effects
Never have seen anything as effective and yet gentle to take. And I've tried more things than I can remember. This is about 4 months in, and an amazing never-ending parasite flow keeps coming out. Highly recommend this product.
Dave M.
Formula 1: Regular: $53.00

Detox Your System: Remove toxins, parasites, mold, fungus and bacteria

Powerful Immune And Digestive Support: Designed with a special multi-herb formula

Maximize Your Immune System: Detox your body and maximize your natural abilites

Restore Your Health: Contains BioActive Carbon Complex to restore health
My Energy is Back!
I am feeling better than I have in a long time! No need for coffee every day for energy, far less cravings for the stuff "the critters" like (thank goodness) and overall wellbeing. Better moods too. I highly recommend all of the Microbe Formulas products. They are gentle but effective and I am so thrilled to have found something that works! I am in Canada and shipping was fast. Another bonus to get your health back on the fast track.

BioActive Carbon BioTox: Regular: $75.00

Remove Toxins: Finds, binds to, and removes toxins from your system

Better Digestive Health: Feel better with proper digestive support

Restore Overall Wellness: Help your body restore its natural overall wellness
BioActive Carbon Biotox has become essential for me. When I started taking it I immediately noticed improvement and up until then nothing I took seemed to help.
Why Is
The Full Moon

Relevant?

Have you ever noticed that you feel differently at different times? It's not just you.
Everything in nature has cycles. The seasons are just one example.

And within those cycles are more cycles, like days, weeks, and months.

And of course, the cycle of the full moon.

These cycles play a huge role in our health because they influence our bodies' levels of neurotransmitters.

Melatonin is one. It plays an important role in the body, by fighting off parasites… so when your melatonin levels are down, parasites take advantage.

Seratonin is another. It's a "feel good" neurotransmitter. But it works for parasites, too. When you have less serotonin, parasites are paralyzed.

You can see why the moon cycle is so important for your overall health then

And why it's the perfect time to evict those nasty parasites from your body.
Take the Full Moon Challenge And Destroy Parasites In Your Body
Each Full Moon Challenge Kit includes a FREE printable instructions guide.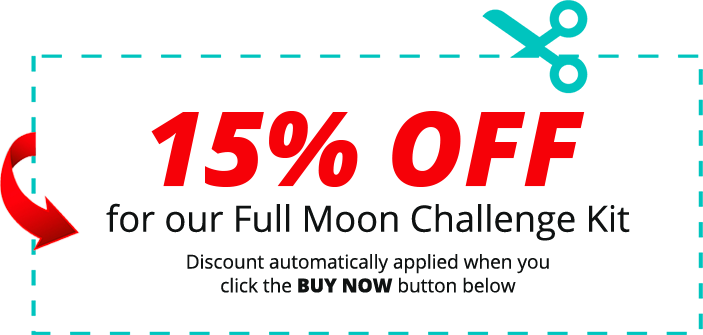 Cannot be used in conjunction with any other offer


60 DAYS GUARANTEE
We create supplements that work in an effort to restore hope and health. If you aren't completely satisfied with your experience, it is our privilege to provide you with a 60-day guarantee.
You will receive a full refund when you send back any unopened product within 60 days of your order. If products have been opened, you will receive store credit.