Attention: CLEAN UP YOUR DIGESTIVE SYSTEM & BECOME A HEALTHIER PERSON!
DID YOU KNOW THAT
YOUR GUT MAY DETERMINE

HOW HEALTHY YOU ARE?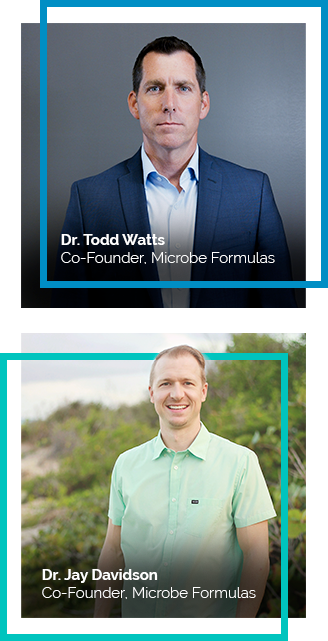 It's true!
Gut health is a HUGE FACTOR when it pertains to how healthy a person is.
Hello, we are Dr. Todd Watts and Dr. Jay Davidson.
Hippocrates, universally esteemed and regarded as the founder of medicine, famously stated…
"All disease begins in the gut."
While more studies need to be conducted to validate his statement, modern research has already pretty much confirmed this.
Our gut holds TRILLIONS of bacteria and they aid in various vital roles such as digesting food and the functioning of your immune system.
Bacteria live throughout your body, but the ones in your gut may have the biggest impact on your well-being.
What many people are unaware of is your gut health has been linked to the following health issues:
Obesity
Type-2 Diabetes
Heart Disease
IBS (Irritable Bowel Syndrome)
Crohn's Disease
Ulcerative Colitis
Depression
Colon Cancer
Arthritis
And that's just to name a few!
If you're not personally dealing with these issues, you likely have a close friend or family member who is.
These diseases are affecting MILLIONS of people worldwide.
And while there are a number of issues that lead to any individual developing a disease, one problem modern research seems to keep pointing the finger at is…
POOR GUT HEALTH.
According to research, possessing a polluted gut seems to be synonymous with a slew of chronic diseases.
So the health equation pretty much sets up like this:
Poor Gut Health = Poor Immune System = Poor Well-Being
Millions of people are following this equation to the T. (And millions more will be following in their footsteps.)
Since you're reading this line, I assume that you are part of this group BUT wish to no longer be a part of it.
You would like to regain the healthier side of life and reclaim your gut health.
Well we have created a supplement that we refer to as a…. Gut Grabber & Gut Scrubber.
It has the ability to press the RESET BUTTON and begin restoring your gut health.
The supplement that we speak of is the organic, filler-free, plant-based…. Mimosa Pudica.
If you're going, "Huh?" you're not alone.
Most people have never heard of Mimosa Pidica. Yet, this plant-based supplement has the propensity to completely alter your health….for the better!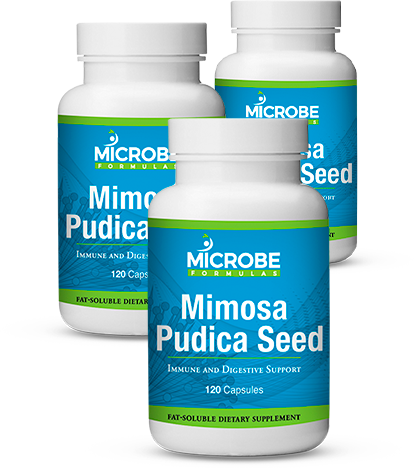 It wasn't until a few years ago that researchers began uncovering the POWERFUL gut benefits of Mimosa Pidica.
Mimosa Pudica, (also known as aslajjalu in the ancient Ayurvedic practice), is a plant that has been used for centuries to treat skin disorders, jaundice, cough, and indigestion.
We refer to it as a Gut Grabber & Gut Scrubber due to its effects once it enters the human body.
Once swallowed, the seeds actually do GRAB & SCRUB the sides of the intestine by pulling out:
Parasites
Toxins
Metals
And all other invaders that might like to attach to the intestinal walls
This is what makes Mimosa Pudica super effective in detoxifying the digestive system which, in turn, leads to a thriving immune system.
We know most people wouldn't want to swallow a seed. So to make it more digestible, we converted the Mimosa Pudica into a veggie capsule.
Once the capsule is swallowed, it is quickly broken down by the body and enters the digestive system to begin the detoxification process.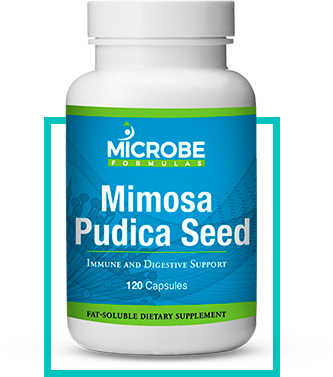 Over the past 15 years, research has shown that this herb may:
Provide anti-microbial, anti-parasite, anti-fungal, & anti-viral properties
Heal wounds
Soothe ulcers
Provide anti-inflammatory properties
Help relieve the pain of hemorrhoids and piles
Treat the side effects from snake's venom
Relieve depression and anxiety
Treat indigestion and diarrhea
Lessen joint pain and arthritis symptoms
As you can see, this herb is quite the healer!
So if you're at the point of your life where you're getting sick all the time, constipated, or lack energy…chances are your gut health is not up to par.
But it doesn't have to stay that way!
Our formulated, filler-free Organic Mimosa Pudica can help you reclaim your gut and restore it back to a healthy state!
8 POTENTIAL BENEFITS OF USING
MIMOSA PUDICA
SIGNIFICANTLY
IMPROVE YOUR GUT HEALTH & IMMUNE SYSTEM

LIKE THESE PEOPLE HAVE!
CHECK OUT WHAT RESEARCH HAS TO SAY ABOUT
MIMOSA PUDICA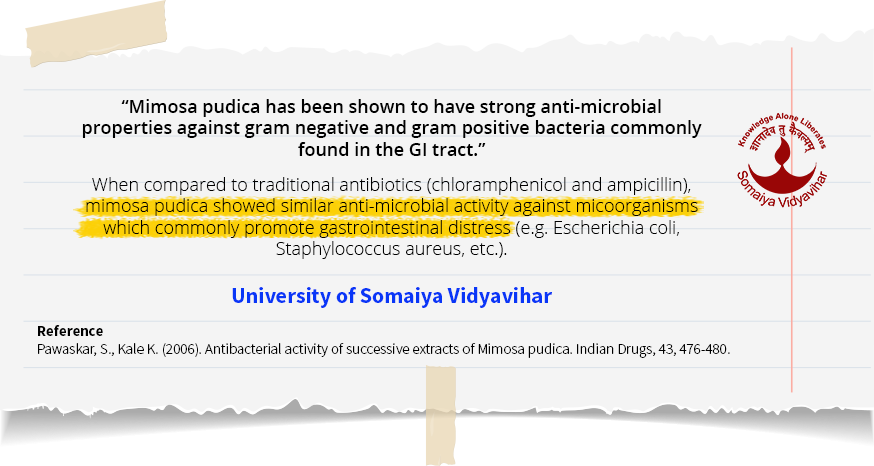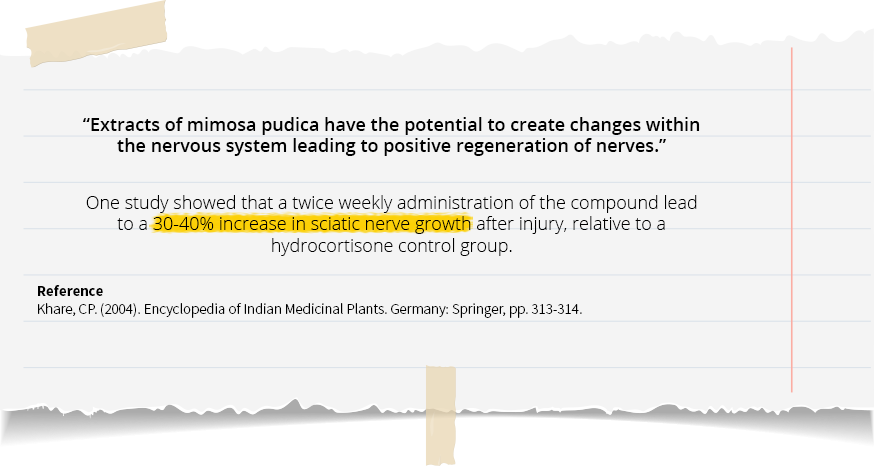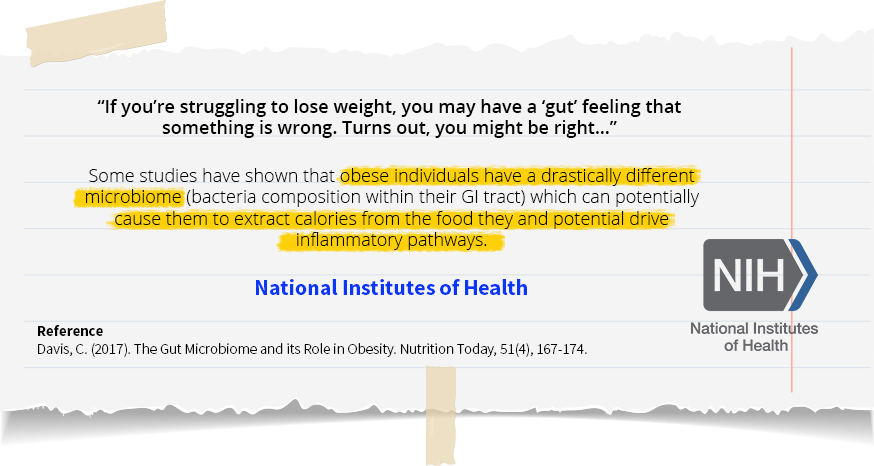 ORGANIC MIMOSA PUDICA MAY BE PERFECT
FOR MEN & WOMEN, 18-69 YEARS OLD WHO
STRUGGLE WITH...
Joint Pain

Arthritis

Indigestion

Chronic or severe constipation

Diarrhea

Depression
Severe anxiety

Ulcers

Slow healing of wounds

Lack of Energy

Brain Fog
BUT...
Here's the good news, you may not have to struggle with these issues anymore…
In fact, in just 30 days, you can start alleviating these issues & achieve optimal health.
Check out how Organic Mimosa Pudica is unique from your typical dietary supplement…
WHAT MAKES THIS DIETARY SUPPLEMENT UNIQUE?
Focuses on healing the gut using a research-backed supplement
Contains no fillers, additives, or excipients
Is gluten-free, corn-free, soy-free, nut-free and GMO-free
Doesn't make any outrageous health claims (e.g., lose a ton weight in XXX days)
Pure plant-based product
Rare herb that continues to yield positive research result
Certified USDA Organic by the Vedic Organic Certification Agency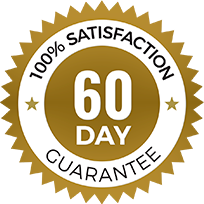 Return Policy
We create supplements that work in an effort to restore hope and health. If you aren't completely satisfied with your experience, it is our privilege to provide you with a 60-day money back guarantee.
You will receive a full refund when you send back any unopened product within 60 days of your order. If products have been opened, you will receive store credit.
Please note that we do not refund shipping costs unless we have sent you the wrong product. We do not issue refunds or store credit past 60 days.
That means you will get a refund if it has been 60 days or less from the day you placed your order to the day it has returned to our warehouse.
START IMPROVING

YOUR GUT HEALTH, ENHANCE YOUR IMMUNE SYSTEM & FEEL BETTER ABOUT YOURSELF!
REGULAR COST IS $45
BUT, IF YOU TAKE ACTION TODAY YOU WILL GET ONE BOTTLE OF ORGANIC MIMOSA PEDICA FOR
HOWEVER, WE HAVE AN EVEN BETTER DEAL! IF YOU DECIDE TO BUY THE 3-BOTTLE BUNDLE TODAY, YOU CAN GET IT FOR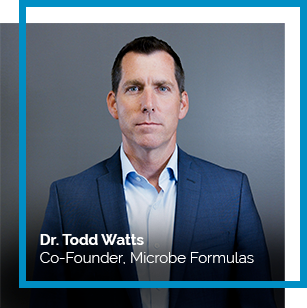 I am Dr. Todd Watts and I, just like many of you reading this, grew up with many health issues. These issues are what led me on this path to help those individuals, who, like me, need to be able to function correctly.
I have a beautiful family – gorgeous wife, Lisa, and four awesome kids. Like me, three of my children have suffered from health issues, not major ones, minor – like eczema – but I wanted to help them too.
Many children who become infected with EBV, and these infections, usually have no symptoms or are indistinguishable from the other mild, brief illnesses of childhood.
For me, having Epstein-Barr led me personally to other health issues that were debilitating: chronic pain, seasonal allergies, and food allergies.
By my late thirties, I was also suffering from: headaches, brain fog and chronic back pain.
Can you imagine what all of this would be like? I'm sure some of you reading this do. It became hard to work, hard to take care of my family, hard to want to even get up in the morning!
Just when you think things are tough enough, I discovered a few years later I also had Lyme disease and several co-infections, which meant more fatigue, headaches and allergies. I saw doctor after doctor.
All the drugs and options they gave me were just temporary fixes. Nothing was curing me. I was told to try giving up dairy and gluten but these too were only temporary fixes.
While I was working on my Doctorate of Chiropractic, I met Dr. Allan Lindsey at a conference where he spoke about Lyme disease and its co-infections. Being from Northern Wisconsin, he specialized in treating Lyme disease and understood the aches and pains that I was going through.
He led me down a path to cure what was ailing me, not just quell the symptoms. This success is what led me to dive into studying hidden infections as the root cause of disease.
I tirelessly worked at learning everything I could about Lyme and other hidden infections. I learned that to get over the Lyme infection, I had to treat parasites.
This was the key to my health completely recovering. As I was treated for the parasites, my allergies, headaches, food sensitivities and pains went away! I learned that what's inside really affects the outside.
Remember, I mentioned my children suffering from minor health issues. They had eczema, a more common ailment but one that still is painful, itchy and can make you feel self-conscious. Who wants anyone – especially your kids – to feel like that!
After spending countless hours, days, weeks and months, I have learned cures for these parasites that destroy systems and lives. After personally trying these cures, I now live without headaches, pain and other symptoms, and so does my family.
My kids are COMPLETELY cured from eczema and now live happy, healthy lives!
I continue to work tirelessly everyday seeking cures for those, who like me before, are affected by these challenges.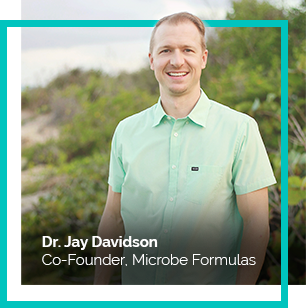 Hello, my name is Dr. Jay Davidson. Let me briefly tell you about my wife struggle with a serious health issue and what motivated me to co-found Microbe Formulas.
My lovely wife, Heather, suffered from Lyme's Disease ever since she was 7 years old.
Then, my beautiful daughter Leela was born in 2012. Unfortunately, this was also a major turning point in Heather's Lyme disease and her health started to deteriorate quickly.
This was the "bottom" for them, and from there my research began.
From this point on, I made it my mission to find the answers that were so desperately needed. As a result of a relentless and enlightening journey, I finally learned what was needed to save Heather's life.
From that day forth, I made a vow to help others fully restore their health.
I completed my undergraduate studies at University Wisconsin-La Crosse, majoring in Biology with a biomedical concentration and a chemistry minor. Then I received my doctorate of chiropractic degree at Northwestern College of Chiropractic in Minnesota.
I mainly focus on functional, natural medicine. I'm also a popular speaker and a two time #1 international best-selling author.
I was the host of the Chronic Lyme Disease Summit Nos.1 and 2. After hosting the Parasite Summit and co-hosting The Detox Project, (which had over 50,000 participants), I also hosted the Chronic Lyme Disease Summit No. 3 in April 30, 2018.
I am admired for my ability to bridge the gap between the scientific health community and the layperson. My holistic approach encompasses the mind, body and spirit.
I lead my team of doctors to formulate a simple, straightforward plan for restoring health. This has gained me tremendous respect among the Lyme community and my colleagues.
Overall, I am an avid and ambitious researcher and clinician in the health world.