Need Help? 1 866-902-0977
FREE SHIPPING ON ORDERS OVER $99.00
#

TRUE

DETOX
BioActive Carbon Foundation
BioActive Carbon Foundation is a binder that supports the detoxification of radiation, viruses, and retroviruses. It can be used as a starting foundation for any detox protocol as well as providing excellent ongoing support in longer-term detoxification efforts.
Free Shipping On Orders Over $99.00
60 Day Risk-Free Guarantee
Having Celiac disease, I am always concerned with how products will react with my intestinal tract.

This product is very gentle, yet super effective.

I noticed a tremendous improvement in my health within the first week.
Laurie T.
Bind & Remove
Acts as a true chelator that focuses on binding and removing radiation, viruses, retroviruses and more
Improved Nutrient Processing
Increases the retention, absorption, and utilization of the vitamins, minerals, and other nutrients that you're already adding to your system
Restorative Properties
Helps restore the tissues with organic material that is needed for cellular function by utilizing short chain active carbon molecules
BioActive Carbon Foundation
BioActive Carbon Foundation is designed to help you get well by removing radiation, viruses, and retroviruses in addition to helping you stay well by providing protection from everyday exposure to these toxins.
Product Information
Suffering from fatigue? Muscle and joint soreness? Lack of energy?
BioActive Carbon Foundation from Microbe Formulas is a game-changer. BioActive Carbon Foundation is designed to get to the source of these symptoms: viruses, retroviruses, radiation, and chemical toxins.
Whether you're suffering from Lyme symptoms, mold exposure, or even radiation from various sources, this is a powerful supplement that can provide the support your body needs to heal. Exposed to herbicides like glyphosate, pesticides, or other chemicals? This product strips viruses off membranes, binds to retroviruses and mold, and as it binds and removes radiation, can even promote thyroid health, as the thyroid is one of the most radiation-sensitive parts of the body.
We recommend BioActive Carbon Foundation as an effective sustaining and support tool in our overall protocol not only for its ability to bind and remove but also its ability to support cellular energy and restoration.
BioActive Carbon Foundation got its name because it truly is a foundation for any detox protocol, whether it be during an intensive cleansing period or as part of a long-term health regimen.
Since it both binds and restores, this supplement can be taken either with or without food.
Ingredients
The list of ingredients below is here to help you understand the ayurvedic properties of each, not to establish a claim on the ingredients as a whole.
Our products use long- and short-chain BioActive Carbon molecules, which have the ability to support life. These BioActive Carbon molecules are extracts of humic and fulvic acids, and are designed to work systematically in the body. These molecules bind with toxins in the body and, in addition to chelating them, leverage their ability to support life by repairing as they chelate.
Our BioActive Carbon molecules undergo a three-step proprietary process in which other molecules are attached to enhance their overall efficacy and ability to support the body as it removes biotoxins. These processes ensure that the molecules and their beneficial elements get where they need to go in the body without dissipation or loss of efficacy on the journey.
In short, BioActive Carbon is included because it binds, restores, directs and protects.
Acid extracts are soluble in both alkaline and acidic solutions, a short chain active carbon and high molecular oxygen is one of the most crucial carbon factors in the reversal and prevention of disease, as well as the maintenance of good health. Carbon is a major component of DNA. In fact, the center of life is carbon. They are composed of highly active (unspent) carbon, hydrogen, molecular oxygen, an organic form for maximum bio-availability. This nano sized molecule passes through cell membranes with ease. They are plant derived, ionic, and contains high concentrations of organic acids. Acid extracts also have a composition consisting of natural carbon-rich polydisperse polyanions.
These extracts, when in their proper form provide the catalyst that allows vitamins, which is another CHO (Carbon, Hydrogen, and Oxygen) molecule, to be utilized and are essential for 96% of all metabolic functions of the human body. They have the ability to complexation, chelating, buffering and pH effects. Without an acid molecule active carbon and high molecular oxygen, vitamins and minerals are of little value.
A good acid extract complex increases retention, absorption, and utilization of all the nutrients in food, vitamins, and supplements. Due to the higher concentration of active carbons, these extracts can extend the time that the carbon, hydrogen, and oxygen remain active in the body. A balanced electro-chemistry is a requirement in the human body. Using a good source of active carbon, hydrogen, and molecular oxygen will give an effective food source for the beneficial aerobic bacteria. The body will fundamentally have the means to repair itself. When these acids with active carbon, hydrogen, and high molecular oxygen encounter free radicals with unpaired positive or negative electrons, it supplies an equal and opposite charge to neutralize the free radical.
Twenty percent of the human body is made up of protein. Protein plays a crucial role in almost all biological processes and amino acids are the building blocks of it.
A large proportion of our cells, muscles, and tissue is made up of amino acids, meaning they carry out many important bodily functions, such as giving cells their structure. They also play a key role in the transport and the storage of nutrients. Amino acids have an influence on the function of organs, glands, tendons, and arteries. They are furthermore essential for healing wounds and repairing tissue, especially in the muscles, bones, skin, and hair as well as for the removal of all kinds of waste deposits produced in connection with the metabolism.
The Difference is in the Detox
BioActive Carbon Foundation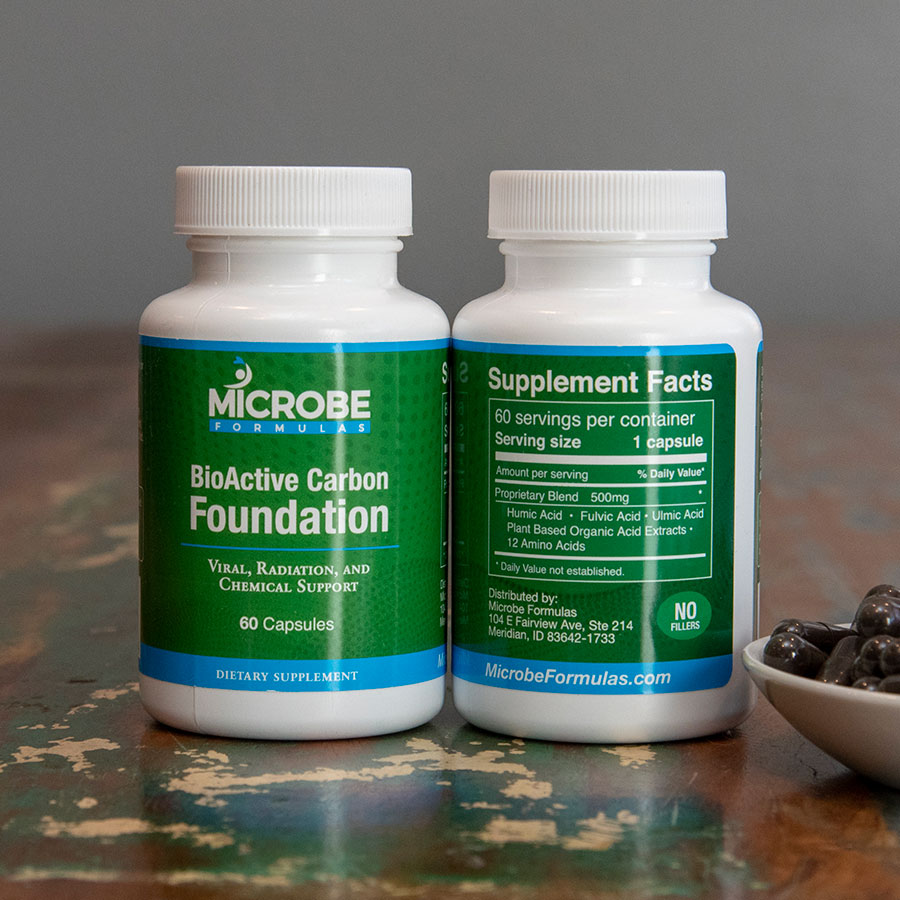 Frequently Asked Questions
Take a moment to review some of questions normally asked about BioActive Carbon Foundation.
Free Shipping
On Orders Over $99.00
60 Day Risk-Free
Guarantee
Live Support
Call or Chat
At Microbe Formulas, we live by this simple standard: Creating supplements that work is what we do. Restoring hope and health is who we are.