Bust through pathogen purging plateaus with a new troupe of herbs. Immune BART is designed to augment your immune function by supporting your parasite cleansing efforts. An array of antioxidants help neutralize free radicals and boost your ability to detox. Plus, carefully chosen herbs heighten your energy levels. Altogether, this band of botanicals endeavors to help you reach new goals in your quest for optimal health.
Free Shipping On Orders Over $99.00
60 Day Risk-Free Guarantee
Immune BART is a new combination of heroic herbs to tackle pathogens.
Dr. Todd Watts
Immune Support
Provides antioxidants to help neutralize oxidative stress while addressing pathogens systemically with anti-parasitic herbs
Promotes Detox
Offers liver support as you purge parasites
Boost Energy
Specially selected herbs work to enhance energy levels during your health journey
Product Overview
Your health journey may require a new lineup of players to get you to the next level. Ones that assist detox, enhance liver function, and rekindle energy levels. Meet Immune BART.
Immune BART is a squad of seven herbs designed to do just that. These herbs bring their "A" game to move you past parasitic plateau and onto victory:
Artemisia Annua: powerful antioxidants known to combat parasites
Black/Green Walnut Hulls: promotes detox and inhibits parasite growth
Boneset: reduces inflammation while tackling parasites
Cilantro: encourages detox and lowers pain
Milk Thistle Seed: supports liver function while fighting free radicals
Oregano: busts up biofilm and suppresses pathogen growth
Suma Root: reduces stress while boosting energy
Together, these herbal heros work together so you can get back to bringing your "A" game to life.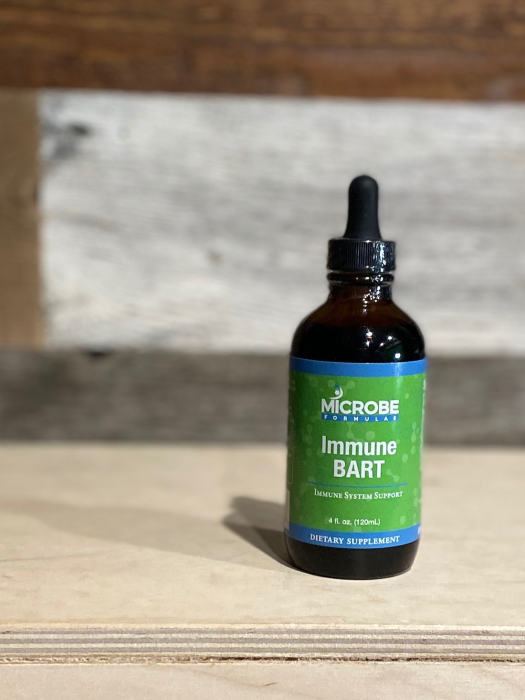 Dosing Instructions
Standard
Take 1-2 droppers (1-2 mL) two times daily or as otherwise directed by a healthcare practitioner.
Aggressive
Take up to 4 droppers (4 mL) two times daily or as otherwise directed by your healthcare practitioner.
Sensitive
Reduce dosage to 10 drops once daily. Cycle the product 3-4 days on and 3-4 days off.
Toddler Under 50 lbs.
Take 5-10 drops twice daily in the morning and evening.
Child Between 50 - 125 lbs
Take 1 dropper (1 mL) twice daily in the morning and evening.
Product FAQs
Taken at a low dosage this product is fine to take while breastfeeding, please consult with your doctor prior to using.
This product can be taken if you have dental fillings or caps. The Met-Chem binder is also safe for those with fillings/amalgams.
This product may be taken alone or mixed in water. It may also be mixed with other Immune Support (BARR, BORR, BAB) products in the same glass of water.
Free Shipping
On Orders Over $99.00
60 Day Risk-Free
Guarantee
Live Support
Call or Email
At Microbe Formulas, we live by this simple standard: Creating supplements that work is what we do. Restoring hope and health is who we are.